Musharaf Faruqui
intro
Successful people often have a lot working against them when it comes to fitness—literally. Despite the obvious benefits of maintaining a healthy lifestyle, the one common complaint that always tops the list is TIME.
Prioritizing wellness, as part of a balanced life, is an important quality to exhibit. If you think about exercise this way, none of us is too busy. And we all need to keep moving. Increasingly, leaders are expected to be on top of their game, but the constant demands can wreak havoc with their health and well-being. Increased work pace, longer days, travel, working across different time zones, and the pressure to stay connected 24/7 has the potential to create wear and tear on both individuals and teams. 'All work and no play' is not sustainable these days, the new mantra is – 'Work, go out and play.'
about Musharaf Faruqui
I am Musharraf Faruqui, a native Hyderabadi had my Education from IIT Madras, worked in Intel India for 2 years, before joining the Indian Administrative Service in 2014. 
Have served in Govt of India & Govt of Telangana since then. Currently the Additional Commissioner of GHMC & PD, Charminar Project. 
Run Details
Date : 13 Jan 2019
Time : 06:00 AM
Location : KBR PARK MAIN GATE
running history
Doing small stretches has been a hobby for 3 years now, but started full time training with HR in March 2018. Did my 1st times Half Marathon in May 2018 & 1st full in AHM 2018.
Family & Work
Single, I stay with my parents & sisters. 
Other Interests
Trekking, Cycling & travelling.
Running Goals
HR means to me
HR has been the driver of Running revolution in Hyderabad. Thanks to HR for giving this city an amazing fitness platform & a great opportunity for like minded to connect. 
Personally, it's the best thing in calendar for the next day.
My favorite running Line
Running is the greatest metaphor for life, because you get out of it what you put into it.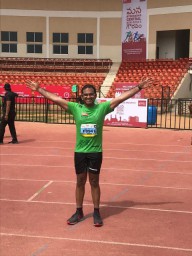 Runners
January 2019
December 2018
May 2018
April 2018