STADIUM RUN
Hyderabad Runners is happy to launch the Stadium Run from this year. The Inaugural Stadium Run is planned to be held on 28-Aug-2021, Saturday. It is a Dawn to Dusk running challenge starting at 6am and finishing at 6pm.
We expect the runners from all over the twin cities and few outstation runners to come and participate in this event of fun and run! 
Let us bring out the athlete in each one of us in this Olympic Year! The world class athletic track at Gaudium Sportopia offers the right platform to compete, excel and enjoy! 
There are two race categories in the event:
12 Hour Team Relay

12 Hour Solo Run
12 Hour Team Relay – Do it as a Team!
This race is a team run, offering a unique opportunity for runners to form their own team of 6 running buddies and run the 2 hours duration each, one after another.
It will be fun to compete as a team, where each runner gets the opportunity to be cheered by his/her teammates, friends and family from the sidelines of athletic track.
All runners who are comfortable for running 2 hours can participate in this race.
The top 3 relay teams will be recognized for their podium finish based on the overall mileage they log as a team.
12 Hour Solo Run – Challenge Yourself!
Needless to say, this is a race for Champions! Ultra runners with abundant endurance are expected to shine throughout the day, hitting the track with their never-say die attitude.
The 12 hour solo runners will inspire the team relay runners running along the nearby lanes, and sometimes drawing from their energy to push themselves. 
Endurance Runners who have completed Marathons, Ultra Runs already are eligible to sign-up for this race. 
Race Day Schedule
– Start Time
Saturday 28th August 2021
Venue – Gaudium Sportopia Athletic Track
Reporting time (12 Hour Solo Runners) – 4:00 AM 
Race Start time – 6:00 AM
There will be direction change for solo runners once in 2 hours.
Reporting time (Team Relay Runners) – 1 Hour before the respective start time
Race Start time for 6 Slots – 6:00 AM, 8:00 AM, 10:00 AM, 12:00 PM, 2:00 PM, 4:00 PM
There will be no direction change for relay runners during their 2 Hours of run.
BIB Collection
Venue: Brooks Store, Road Number 36, Jubilee Hills, Hyderabad
Date: 27-Aug-2021, Friday 10am to 5pm
Things to carry for BIB Collection
BIB Intimation mail

RT-PCR Test Result with Negative Report (test taken 72 Hours prior to the run)

Photo ID Proof  
What will be provided during the BIB collection?
T-Shirt

BIB with timing chip
What Each Finisher gets?
Medal

Timed Results

Post-run Refreshments

E-Certificate
Prize Categories
12 Hour Solo Run
Top 3 Male Runners

Top 3 Female Runners
Team Relay
Max Miler – Male

Max Miler – Female
Rewards for Podium Finishers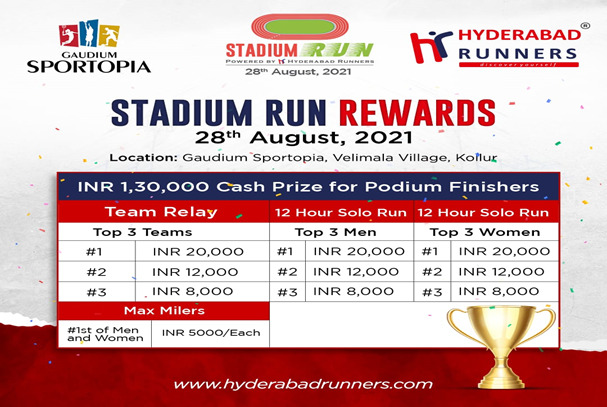 Results Announcement and Prize Distribution
At 7:00 PM on 28-Aug-2021 at Athletic Track at Gaudium Sportopia
12 Hr Hyderabad Stadium Run-2021 – Solo and Team Relay Runners – Rules and Safety Guidelines
All participants are required to report at the venue 1 Hour prior to the start-time of their individual events.

Bib and Timing Chip have to be worn at all times during the entire run.

Pacers are not allowed on or off the track during the race. Failure to comply will lead to disqualification of the participant.
No family and friends will be entertained at the food area for participants and on the Race Track.

There will be a change in direction of running every 1 Hour for Solo Runners & Team Relay runners will run in the same direction for entire 2 Hour slot

Runners must run in the same sequence for each leg of the relay. Keep in mind there will only be one runner from your team on the track at any given time.

The distance after last FULL lap completed at the 12-hour mark will be the official finish distance. There will be no credit for partial laps.

It is mandatory for 12 Hour Solo participants to undergo medical check-up every 6 hours.

Any participant should inform Race in-charge Officials if takes a break for more than 15 minutes or abandon the race prior to the finish time.

Minimum Time on Track: The Relay team together and Solo runner is required to clock minimum 11 hrs on the track for a Finisher Certificate and Medal. Otherwise, the team or solo runner is treated as DNF (Did not Finish).

If a relay team runner is unable to complete a lap for any medical reason, the next runner in order begins from the transition zone with their assigned leg.

On site injury /urgent medical and physiotherapy services is provided throughout the duration of the event. Medical staff and other event personnel reserve the right to rule out any runner from participating if they deem unfit to run.

Every runner of Team Relay must start in the wave time that you have been assigned or your team will be subject to disqualification.

Follow the track etiquettes. Be considerate to your fellow track runners who overtake with caution.

Lane Allocation: 12 hr Solo Runner – Track 1 and Track 2; 12 hr Relay Team Runner – Track 3, Track 4, Track 5 and Track 6
Participants are strictly advised to run in the lanes allotted to them
Lane allocation and distance calculation : Track 1 and Track 2: 400 Mtrs (for 12 Hour Solo Runners)
Lane allocation and distance calculation : Track 3, Track 4 ,Track 5 and Track 6: 425 Mtrs (for Team Relay Runners)
The distance is calculated for the team Relay at 425 Mtrs per lap, irrespective of the lane the participant runs in.

Participants must follow the instructions outlined by race officials and course signage. Failure to do so may result in disqualification.

This is a rain or shine event. In the occasion of extreme rain prior to the event, or in the case of severe weather during the event, the Race Directors reserve the right to cancel the event, condense the event and/or not allow participants on the tracks until weather improves.
Ranking of Finishers – Criteria and Rules
11 Hours on Track out of 12 Hour duration for solo runners, collectively for relay team is required
Ranking is based on higher number of laps completed
If there is a tie in number of laps for solo runners

Runner with minimum break duration will be considered for higher rank (TB#1)
If tie continues after TB#1, number of laps in the last hour will be considered for higher rank (TB#2)
If tie continues still, TB#2 will be applied for the previous hour and so on.,

If there is a tie in number of laps for relay teams

Runners with minimum number of laps from tied teams will be compared, and the team having the runner with higher number of laps among them will get higher rank (TB#1)
If tie continues after TB#1, runners with next minimum number of laps will be compared (TB#2) and so on.,
Refreshments for Solo Runners
Apart from heavy snacks during breakfast,lunch and evening times, the following items will be made available for Solo Runners during the run throughout the duration
Tea,Coffee
Butter Milk
Lemon Juice
Water Melon
Water
Jaggery
Chocolates
Biscuits
Lemon
Black Salt, Pink Salt & White Salt
Bananas
Dates
Fast & Up Hydration
Eno
Refreshments for Team Relay Runners
During the run, relay runners will be provided the following items from hydration stations in the track.
Water
Fast & Up
Black Salt
Lemon
Banana
Water Melon
Dates
Post Run-Relay runners will be provided with refreshements from the food counter outside of the track.
HYDERABAD RUNNERS
EVENTS CALENDAR
Social Wall