Shuvjit Mishra & Smita Panda
intro
There are several things you can do to live a better lifestyle, from following a healthy diet to exercising regularly. The ultimate focus should be on living a life that you can be proud of, while also avoiding health problems; or reverse them if they already exist. If you're still in doubt, think about how living a healthy lifestyle can benefit you ten years down the line. When your focus is on the purpose of living healthy, then you'll start acting right by taking steps towards making it a reality.
Due to changing lifestyles, work & family which preceed everything as we progess in life, at some point it's important to recognize the aspects of your life that you can control right now; your health and daily habits are definitely one of them. When you do achieve results, remember to celebrate your little victories, it would greatly help you move towards the next milestone to a much healthier you. The problem is, wanting and doing are two very different things. Here is the story of yet another running couple who made the right choices and set themselves on the road to active lifestyle and happiness. Read on to know more about Shuvjit & Smita, the Running Couple Of the Week.

about Shuvjit Mishra & Smita Panda
I am Shuvjit Mishra originally from Sambalpur, born and brought up in Rourkela, the steel city of Odisha. Did my engineering from NIT Rourkela and went on to do my MBA from SCMHRD Pune. I used to play cricket and football during school and engineering days but post that I was not into any sports. Being a foodie resulted in weight gain and I turned to running to help me in weight loss and build stamina. Running has helped me to remain positive even in the most stressful situations.
I am Smita Panda from Sambalpur, Odisha. Have done my engineering from SOA University Bhubaneswar. Post marriage we have been in Hyderabad since 2011. I used to be active in athletics and badminton during my school and engineering days. At my work place I developed interest in table tennis too. I was best athlete in my school and badminton Champion in college. I have won many awards in athletics and Badminton in my school and college days. I have won couple of awards in badminton and table tennis in my previous companies.
Run Details
Date : 23 Dec 2018
Time : 5:30 AM
Location : ICRISAT Patancheru, Hyderabad
running history
Started running in 2017 through the Couch 2 5k programme organised by Hyderabad Runners. Before the graduation run for Couch 2 5k, Smita tried and successfully completed her first 10k in Pinkathon in 2017. Post Couch 2 5k both of us started training together both in running and strength training. Our running group i.e. RTP Runners is a blessing for us in form of constant motivation. Running helped us in making so many new friends in Hyderabad Runners.
We both ran our 1st AHM (10K) in 2017 and there has been no looking back since then. We have participated in multiple 10k and a few HMs. Both of us had run the 12-hour Stadium Run in May 2018. We had challenged ourselves by participating in the 100 days of running challenge. Smita will be running TMM 2019. Both of us are also looking forward to running together in Club Run 2019. Apart from running, we have also worked as volunteers during AHM, Sunday long runs and other running events. We got the opportunity as Outdoor Kids mentor for RTP during summers of 2018. We had a great time with the kids and we are trying to continue the sessions whenever possible from our side.
Our daughter Saanvi (6 years old) seeing us running, has also taken to it and has been running 2k/3k runs. She also helps us in volunteering. She also participates in run and team relay in her school.
Family & Work
My father is retired executive from SAIL while my mother is a professor. They are settled in Sambalpur Odisha. Smita's father is a retired bank officer while mother is a home maker. They are also settled in Sambalpur Odisha.
Coming to work, I work as Staff Product Manager with ServiceNow Inc and part of the group NOW Runners. Smita works as a Business Analyst with Ivy Comptech. We have a daughter Saanvi who is 6 years old. She also takes keen interest in running like us. Whenever possible we all go for a run together.
Other Interests
I am an auto enthusiast who loves to travel and try various cuisines. Smita enjoys trying out new recipes, playing the keyboard and listening to music.
Running Goals
To continue the running journey without injury and improve as a runner everyday.
HR means to me
HR is much more than a running group to us. It has given us friends for life, motivation to stay fit and healthy. In short HR is an extended family for us.
My favorite running Line
Shuvjit- "If it doesn't challenge you, it doesn't change you"- FRED DEVITO
Smita- "I don't run to add days to my life, I run to add life to my days"- RONALD ROOK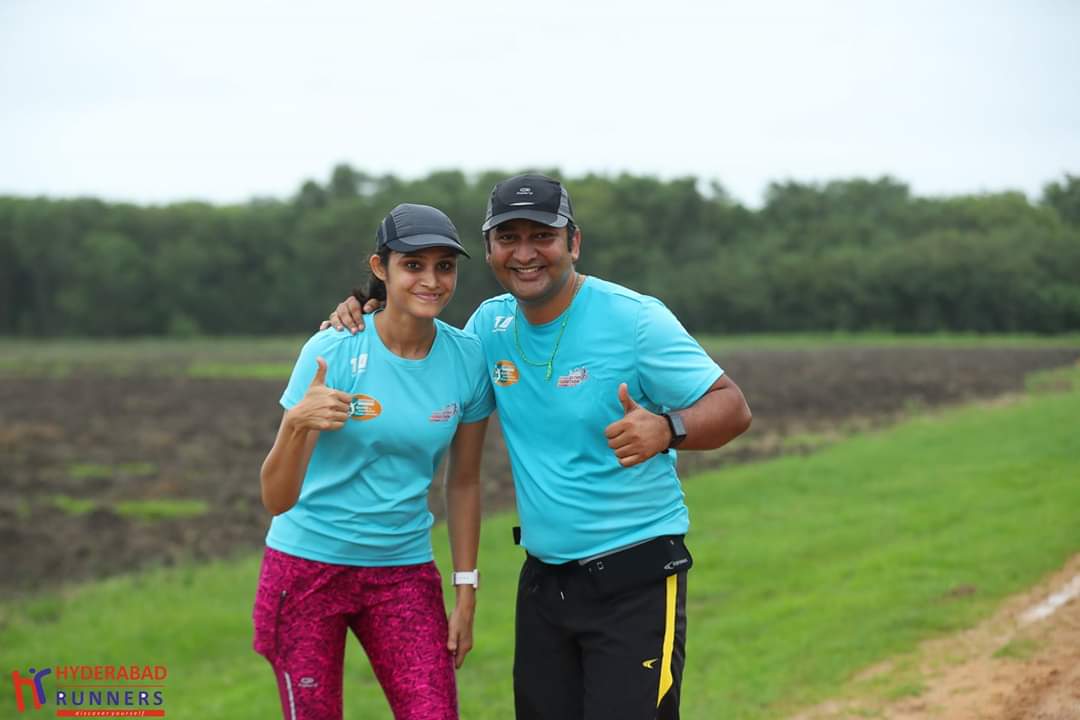 Runners
January 2019
December 2018
May 2018
April 2018