KV Bhaskar Reddy & Swarna Latha
intro
Every day, across the country, individuals are hitting gyms, unrolling yoga mats, pounding the pavement, and signing on to new fitness challenges.
Not surprisingly, many people avoid exercise because they don't find it even remotely appealing. And with busy schedules, physical activity becomes an even lower priority. Maybe they shouldn't be doing it alone. 
Fitness can be about you, or it can be about you and your partner, so why not share this aspect of your lives, either regularly or just on occasion, and discover how doing so might give a new dimension to your life.
Over the past 2 weeks, we have been introducing running couples from our running communities. Here is yet another couple, sharing their running journey. Read on to know more about their journey.

about KV Bhaskar Reddy & Swarna Latha
I am KVB Reddy. We are from Guntur District. Studied my diploma in Hyderabad, Worked for 3 years in Mumbai and returned to Hyderabad in 2005 and have been working in Hyderabad since then. I am working as a support consultant at NCR Corporation.
I am Swarna Latha, Hails from Guntur , Did my engineering in Newtons college, Macherla and Worked for few years in TCS. Married to Bhaskar in 2010.
Run Details
Date : 16 Dec 2018
Time : 5:30 AM
Location : University of Hyderabad
running history
KVB Reddy: I used to play lot of cricket, Shuttle and table tennis but I never got into running until 2015. I took up running in 2015 and Ran AHM half marathon with great difficulty ( 2 hours 45 minutes ). That's when I strongly decided to come back to this race with full practice after looking at the participants doing the Full Marathon and half marathon so easily.
Started practicing in the local events ( Hyderabad 10K, Club run in 2016 ) and registered for AHM full Marathon in 2016. I did a lot of practice starting from March to August and did many long runs with the HR team. Finished the race in 4 hours 31 minutes. I was pleased with the results 
🙂 and there was no looking back then 
🙂
All this motivation came from my Brother-in-Law ( Eswar ) who started a small group to encourage the people on Fitness programs within the family and friends and it motivated several people within the companies, friends, and families and the group name is #TridersIndia #Triders
TriderIndia also Does social activities every year ( Fitness for a cause program) and we have raised 10lakhs so far for helping the rural and tribal kids by working with few NGOs.
Swarna Latha: 
I do regularly go to the gym from 2010 but never got into running seriously until 2015. My brothers ( Eswar and Gurava ) use to participate in marathon runs and I use to practice with them in the Gym but never participated in the official races and this is the same time when Bhaskar started running practice. I have Finished first official 10KM run in 1 hour 11 minutes in 2015. Started practicing with Bhaskar and did my first half marathon in AHM 2016 ( 2 hours 34 minutes ). I do regularly go to the gym in the evening times and do weight training along with cardio.
This pushed my limits and practiced for my first AHM full Marathon in 2017 and finished the FM in 6 hours' time. Participated in Monsoon Marathon challenge in 2018 ( 4 runs ) and did a lot of long runs with the HR teams which helped me to cut down 45 minutes in my second full marathon ( AHM 2018 – 5:18:00)
Running Details:
KVB Reddy:
Finished 5 Full marathons so far ( 3 AHMs, 1 SPBM, 1 Nashik Monsoon Marathon )
Full Marathon ( PB ) – 3:45:11
Half Marathon ( PB ) – 1:42:06 ( 1:37:30 on Track field )
10KM – 41:50
50K Ultra running – 4:51:00
12 Hours Hyderabad Stadium run 2018 ( Covering 99.6KM and a podium finish )
Swarna Latha:
Finished 2 Full marathons so far.
Full Marathon ( PB ) – 5:18:00
Half Marathon ( PB ) – 2:14:06 ( Club Run 2018)
10KM – 58:00 ( Hyderabad 10K 2018 )
Podium finish for NEB Sports Hyderabad Ultra 25K ( 2018 )
Finished Monsoon Marathon challenge 2018 with 2 Podium Finishes.
Family & Work
KVB Reddy: I have 2 brothers and I am the youngest. Elder brother is working in Dubai and Another brother is working for Army ( He is also a great runner ). Swarna Supports me really well for all my races. We have 2 daughters, My mother-in-law stays in the same apartment and without her support I couldn't imagine travelling/Sunday long runs/Races.
Swarna Latha: I have 2 brothers ( both are exceptional runners ). My father was a teacher. My father and Mother stays in the same apartment with us and they take care of our children when we are out for the long runs/races. Most of our family members are into some kind of fitness programs ( Running, Swimming, Cycling, Walking).
Other Interests
Running Goals
KVB Reddy:
With the current work schedules and timelines – Just restricting myself to short runs but I wanted to slowly get into (Very) long distance running. Possibly in the coming years ahead 
🙂
Swarna Latha:
There are no goals for me but wanted to enjoy distance running to keep us fit and healthy.
HR means to me
We wouldn't have gained so much knowledge and running experience without Hyderabad Runners group, especially the Sunday long runs. Feels Proud to be part of the club.
My favorite running Line
I think no Human is limited. Everything is possible, and records are there to be broken – Just love this quote from Eliud Kipchoge.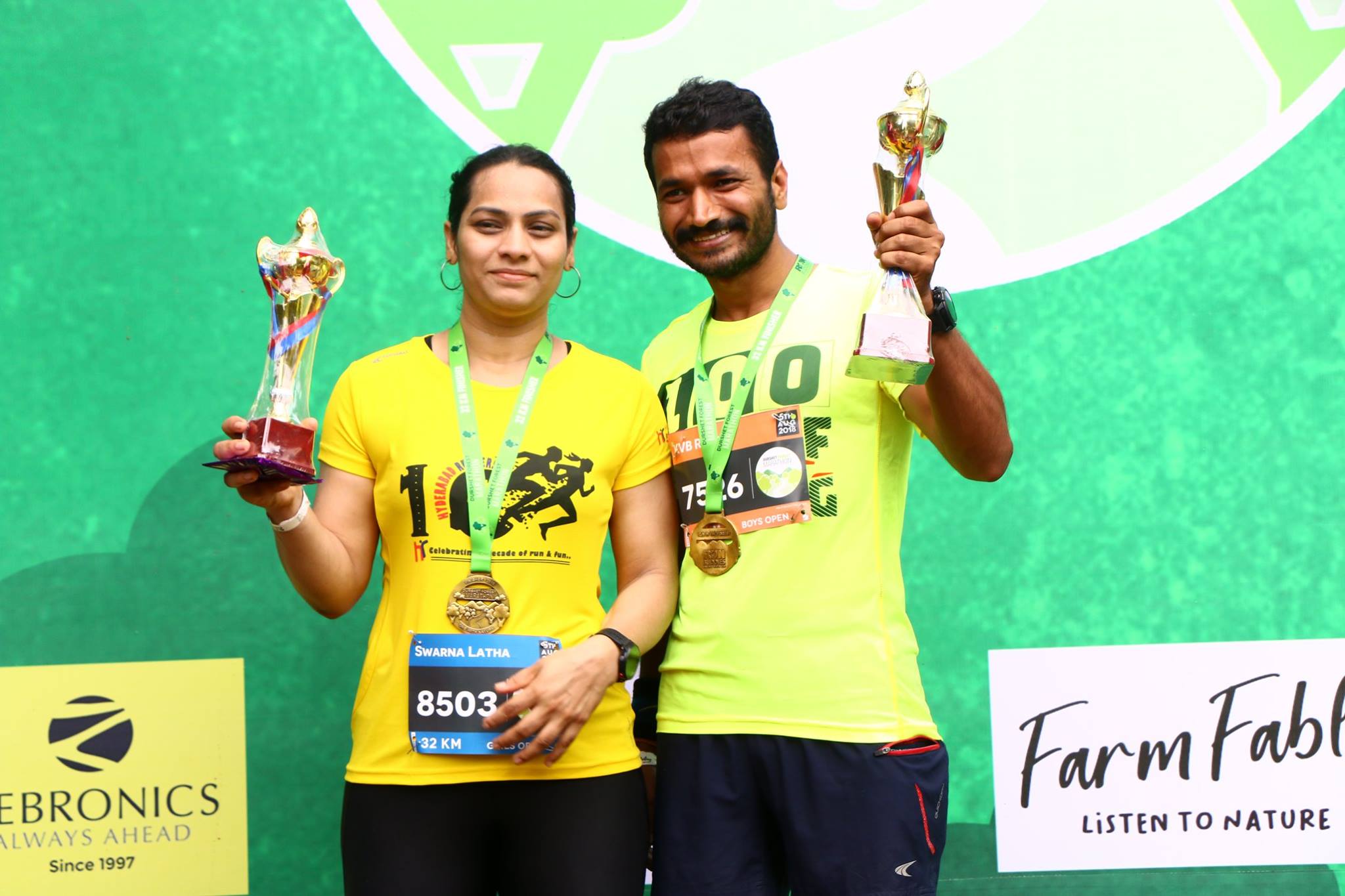 Runners
January 2019
December 2018
May 2018
April 2018