Rajanikanth Reddy & Shireesha Reddy
intro
We all know the benefits of a workout buddy — they're motivating, they keep you accountable, and they help pass the time at the gym. Exercising with a partner or a buddy can double your performance, which is a total workout win. So, who better to get fit with than your significant other? Should working out together be considered quality time?
A study on married couples who a combined fitness regime found that working out with your partner or spouse could help you stick with it — only 8 percent of the participants in the study who exercised with their spouses quit compared to half of the participants who exercised without their partners or spouses. That's a pretty good reason to start getting fitter together – it could be taking a gym membership, yoga or running! When we share a life and a household with someone, we have ways of shaping their environment to make healthy behaviors easier.
Your joint plan towards wellness keeps you an energised and happier couple. As you stick to your fitness goals together, you live a healthier and longer life together. Here is one such story of our Runner Couple Of The Week – Rajanikanth & Shireesha.
about Rajanikanth Reddy & Shireesha Reddy
I am Rajanikanth Reddy, from Hyderabad. Grew up in Hyderabad and did my masters and worked in US for a while and now back in my city for last 9 years. I am Shireesha, a pakka Hyderabadi at heart, two things I love apart from my family are running and Biryani. My marriage took me to USA for full 3 years but I am back in the city that has my heart
We both ran our first half marathon at AHM 2015 and there was no looking back after that. We have been to many runs at different places but Hyderabad runners have set the bar very high, so decided I would do my first full marathon in my city at AHM 2017. I moved on to my first Ultra at Rugged Sahyadri 50K which was an unsupported run in Western ghats and realised that long distance runs are best in the hills and trails that have so much to offer. Now gearing up for the 60 Kms Ultra at Vagamon in January 2019. Shireesha has done 8 half marathons so far and Suhaas has been running 5Ks from 2016 and Rahul had joined him from last year. Shireesha is planning to do her first full marathon at AHM 2019.
Run Details
Date : 02 Dec 2018
Time : 5:15 AM
Location : PBEL City, TSPA Junction
running history
Started running in early 2015 as Shireesha had signed up for Pinkathon. We both started training together and it was a surprise that someone who could walk for long distances could not run with the same energy. But blessed with beautiful roads, hills and an amazing group of runners at PBEL City, it was almost the easiest choice to make, to run every morning, to have interesting conversations, to meet people from different backgrounds and yet have a common ground to share.
Family & Work
I am an IT consultant who accidentally stumbled upon my love for running over 3 years ago. Shireesha is a HR professional in an IT company and we have two kids Suhaas (10 years) and Rahul (6 years). Me and my wife share the passion of running and so do our kids …..they had to!! 
🙂 Running has been a part of our lives since 2015 and an activity we all enjoy to do as a family
Other Interests
Trying different kinds of food, long drives and cooking
Running Goals
Rajanikanth – To run at my own pace injury free….. relaxed and enjoy.
Shireesha – To finish one full marathon right now. AHM 2019
HR means to me
An extended family to whom I would contribute my time and effort any time they need
My favorite running Line
Our favourite running Line: "Listen to your body" and "I am not afraid of storms, I am learning how to sail my ship."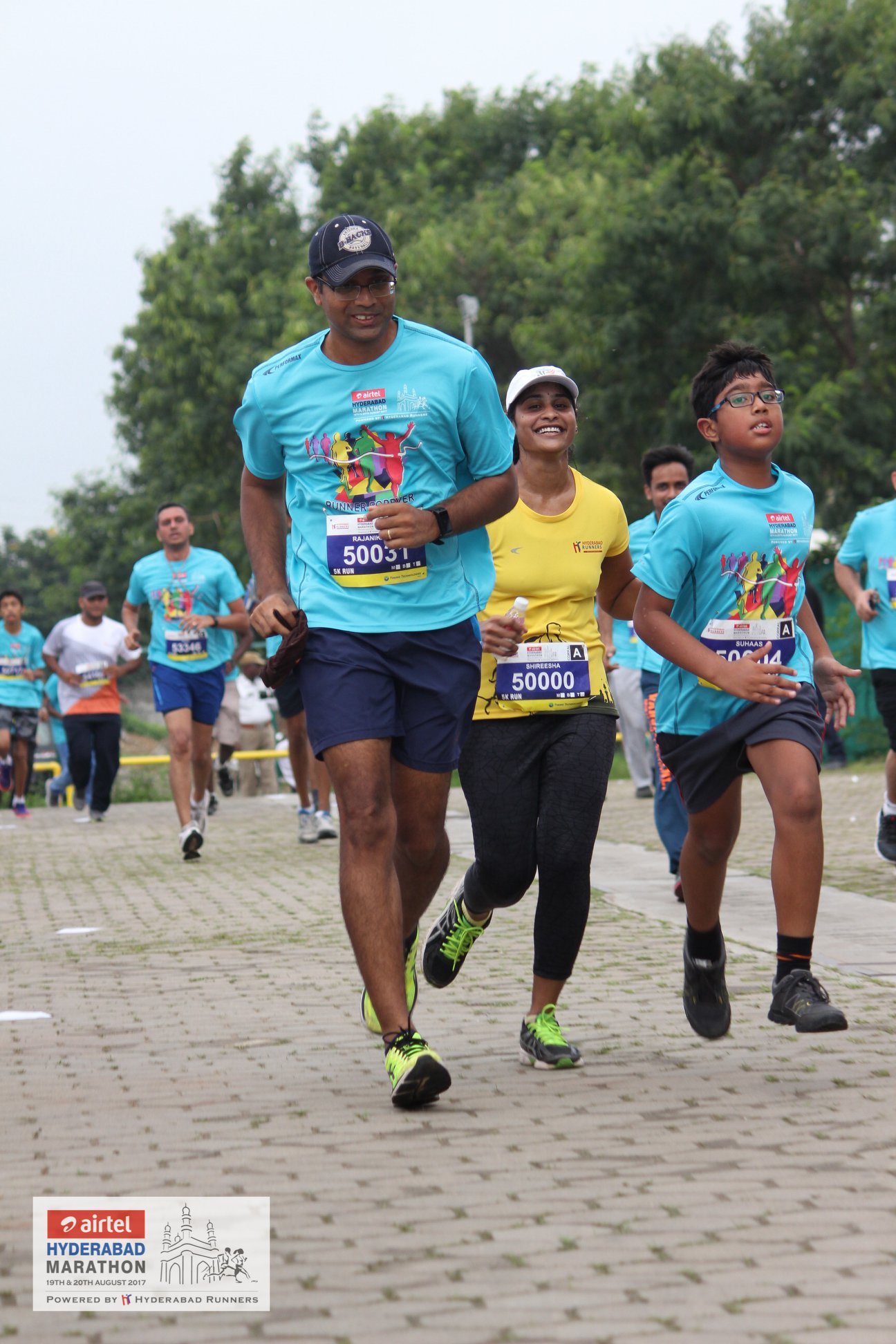 Runners
January 2019
December 2018
May 2018
April 2018