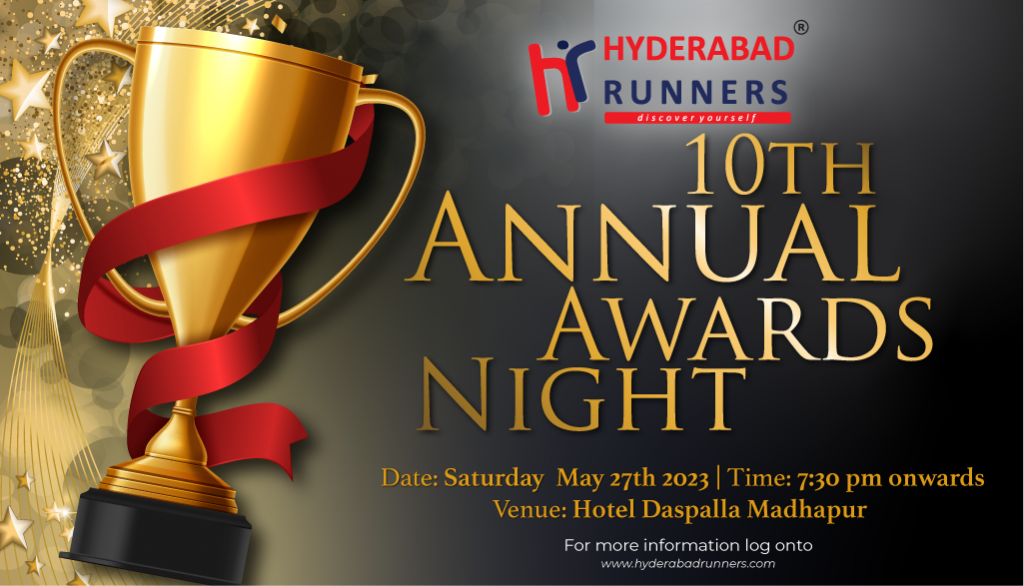 Runners' Evening – 2023
After a whole year of running comes the time to celebrate the achievements. Our Annual Runners' Evening is an occasion to recognize the feats and triumphs of those in the Hyderabad Runners family. Hyderabad Runners aims to encourage and promote amateur running, and in our journey towards that goal, we constituted a series of awards to appreciate amateur runners.
Recognising the Individual
While timing is often the most measured form of running achievements, our Annual Runners' Evening goes beyond this. We acknowledge people's time spent on running and volunteering, their individual growth and achievements, and also recognize families and groups that train together.
The potential awardees at the Annual Runners' Evening are evaluated by an impartial judging panel. The panel consists of 9-11 members who are active members of Hyderabad Runners. Members from running groups all over the city will be included in the panel.
An Evening of Celebration
With the end of the running season, we kickstart the period of celebration. While our Annual Runners' Evening is fundamentally to acknowledge runners, volunteers and other achievers, we make sure that the evening is about fun, family and friends. With music, dance and other entertainment programmer, this is one boisterous evening. We make sure running community can party hard, and our runners' evening is definite proof of it!
We are thrilled to announce that the Long-awaited Runners Annual Awards Night is just around the corner, and we would be honored to have you join us for an evening of celebration, recognition, and pure running joy.
This prestigious event will take place on
Date: 27th May 2023
Time: 6:30pm onwards
Venue: Hotel Daspalla, Hyderabad
 Expect an evening filled with laughter, inspiration, and camaraderie as we gather to applaud the dedication and perseverance of our running community. This is the perfect opportunity to recognize the hard work, determination, and milestones that each of us has accomplished throughout the year.
 During the event, we will announce the award winners in various categories, including Best Debut , Best Couple, Best Family,Best Runner of the year and many more!
It will be an unforgettable moment as we honor those who have excelled and inspired us all.
 Immerse yourself in the vibrant atmosphere, relish delicious food, and let your feet dance to the beat of celebration. We encourage you to dress in formal attire with a touch of casual, proudly showcasing your running spirit.
Dinner booking for this gala evening is limited, and we don't want you to miss out on this epic celebration of running triumphs.
Book your spot now by : Click here to register
We hope you can join us on 27th May 2023, starting from 6:30pm onwards, at Hotel Daspalla. Let's come together as a united running community, cheer for one another, and inspire future accomplishments.
Thank you for being an integral part of our running family. We look forward to celebrating with you at the Runners Annual Awards Night!
HYDERABAD RUNNERS
EVENTS CALENDAR
Social Wall