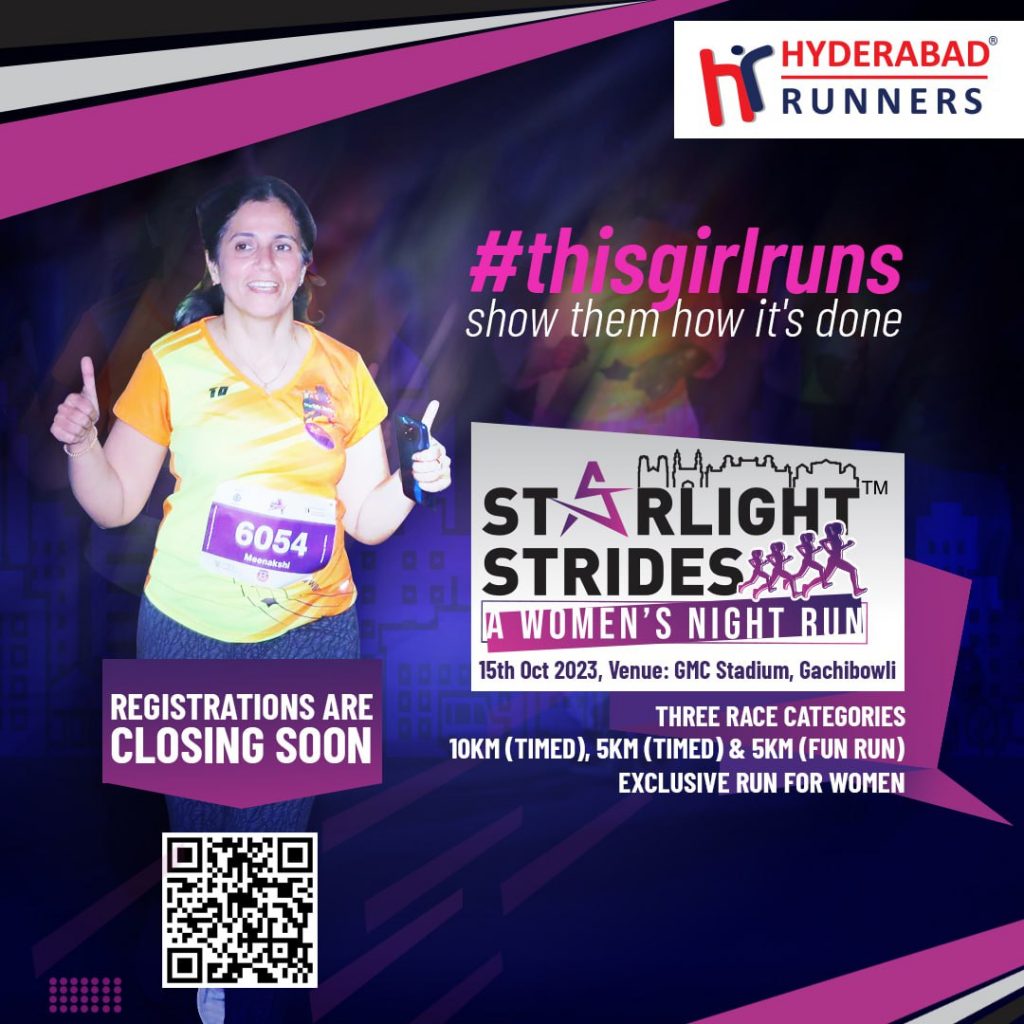 THE WOMEN ONLY NIGHT RUN
Hyderabad Runners undertakes the promotion of women's safety and empowerment by organizing a Women's Night Run, as a way of encouraging women to reclaim their own safety and empower them.
International Women's Day is celebrated world over in March to commemorate achievements of women. Given the growing popularity of running, it is hardly surprising that the first thing most organizations think of is a short run for women to celebrate Women's Day. Hyderabad Runners too, in keeping with their mission statement, had always tried to do a Women Only Run in the month of March. However, with most venues being booked and every other organization or corporate entity organizing a run, it somehow never received the necessary traction and ended up being a tame affair.
The University of Hyderabad, with whom Hyderabad Runners have partnered for their Club Run and the Hyderabad Marathon has their own version of the Women's Day run at their campus on March 8th every year. A chance discussion with University officials led to the topic of a night run – a very plausible venture, considering the University campus roads are private, well lit and safe. The then President of Hyderabad Runners, Murali Nannapaneni, strongly opined that Hyderabad Runners should plan their Women's Run in October, even if it is not Women's Day,since there are fewer events in that month. A couple of women Core Committee members of Hyderabad Runners who had been trying to organize a Women's Run in March for a few years also concurred. Then blossomed the idea of a night run exclusively for women, within the University campus, which was welcomed with much gusto by the University officials. Thus was born "Starlight Strides" – a first of it's kind night run, exclusively for women and it soon cemented its place in the HR calendar of events.
The 4th Edition of Starlight Strides is scheduled for
Date :: 15th October 2023
Time :: 7:00pm
Venue :: GMC Balayogi Stadium
10k – Above 18 years
5k – Above 14 years
Code of Conduct in Running Events
Each registered runner will be eligible for
1. Bib for all (timing chip for timed 5k & 10K)
2. Finisher Medal
3. T-Shirt
4. Post-run refreshments
5. Memories to cherish