Sunder Nagesh
intro
For some of us running journey starts with several apprehensions, and after an epiphany or two, gets elevated to euphoria and general runner-love smugness. Running comes into their lives when they don't even realise that they needed it. Everyone has a tale to tell, a race story to unfold, advice to give. And because it is the most solitary. It's your PB, you run for yourself, you run against yourself.
Some runners describe it as a Zen experience. Other runners love the endorphins that you're left with after a long tough run. Some do it for health and fitness and the sense of accomplishment. No matter why you love running, there will always be a new trail to explore, another race to enter, or simply a new morning to enjoy a run around your neighborhood.
Here is the story of our Runner Of The Week, Sunder Nagesh who just doesn't seem to slow down his love for running. 3 FMS, 3 Ultras (50ks), few HMs and 10k – all in a span of little over a year! Running is his drug of choice, his second job, his escape, his passion. Read on to know more about him.

about Sunder Nagesh
I've been based in Hyderabad all my life – was born and brought up here; dd all my education here. And, I've been working here. I'm a Quality professional and I've been working in the software industry in the testing domain for more than 11 years now. I currently work for an iOT startup called Mobilogix.
Run Details
Date : 09 Dec 2018
Time : 5:30 AM
Location : Sreyas Institute Of Engineering & Technology Beside Indu Aranya, GSI, Bandlaguda, Nagole, Hyderabad
running history
I took up running in an interesting manner. May years ago, I heard that people raise funds for different causes via runs and marathons. I decided to experiment this by attempting to raise funds for our NGO 'Bring A Smile'. So, 6 years ago, I decided to run the 'Hyderabad 10K' on 25th November, 2012 to see if I can raise any funds for our NGO. It was my experiment with everything – from trying to raise funds, to convincing my friends to believe in our cause to trying to use the social media to raise funds, to getting my message across to my friends via emails (no WhatsApp then), trying to connect all the dots, trying to pitch the idea to as many people as possible – and I was successful in raising over 30,000 rupees for our NGO. In this process, I also won the highest individual fund raiser award.
Later I ran at a couple of AHM's (HM's) only to raise funds. Over the years, I've raised over 2.5 lakhs for our NGO "Bring A Smile' through my runs.
Things changed when I signed up for the 'Go Heritage run' at Hampi last year where I met Giri garu from the LB Nagar runners group. I started practicing with them and attended the weekend long runs with them. It has been a rewarding and exciting 'running' journey since then.
My running details are:
Go Heritage runs – 12 till date. 10 in 2017 and 02 in 2018.
Full Marathons – 03 till date – TMM 2018 (05:33:11). AHM 2018 (04:58:56). Vizag Navy marathon 2018 (05:43:19).
Ultras (50K) – 03 till date – Matheran 2018 (07:16:01), Malnad Ultra 2018 (08:13:52), HUM 2018 (06:14:37)
HM (PB) – Vijayawada Marathon 2018 (02:02:52)
10K (PB) – Hyderabad 10K 2018 (00:45:10). TCS world 10K 2018 (00:51:33).
Family & Work
Both my parents are retired now after working for over 36 years respectively. My mother worked as a Superintendent in the DEO's office (State Education department) and my father worked as a Senior Engineer at the South Central Railways. Both of them are home enjoying their retirement. I've a younger brother who's working as a senior Data scientist at a Data Analytics firm here in Hyderabad (post his MS and Ph.D in the US).
Other Interests
I like writing, cinema, Traveling, reading about cinema and travel, Quizzing, reading anything, I'm a news junkie too.
Running Goals
I'd like to run for as long as possible in my life. I'd like to run at the world majors sometime. And, Comrades marathon too.
I'd like to pace at as many events as possible – to help as many runners as possible in achieving their running targets.
HR means to me
A part of me now and I'd like to be associated with HR in whichever capacity for as long as I live.
My favorite running Line
Just keep running as long as possible. And, remember to be healthy for life.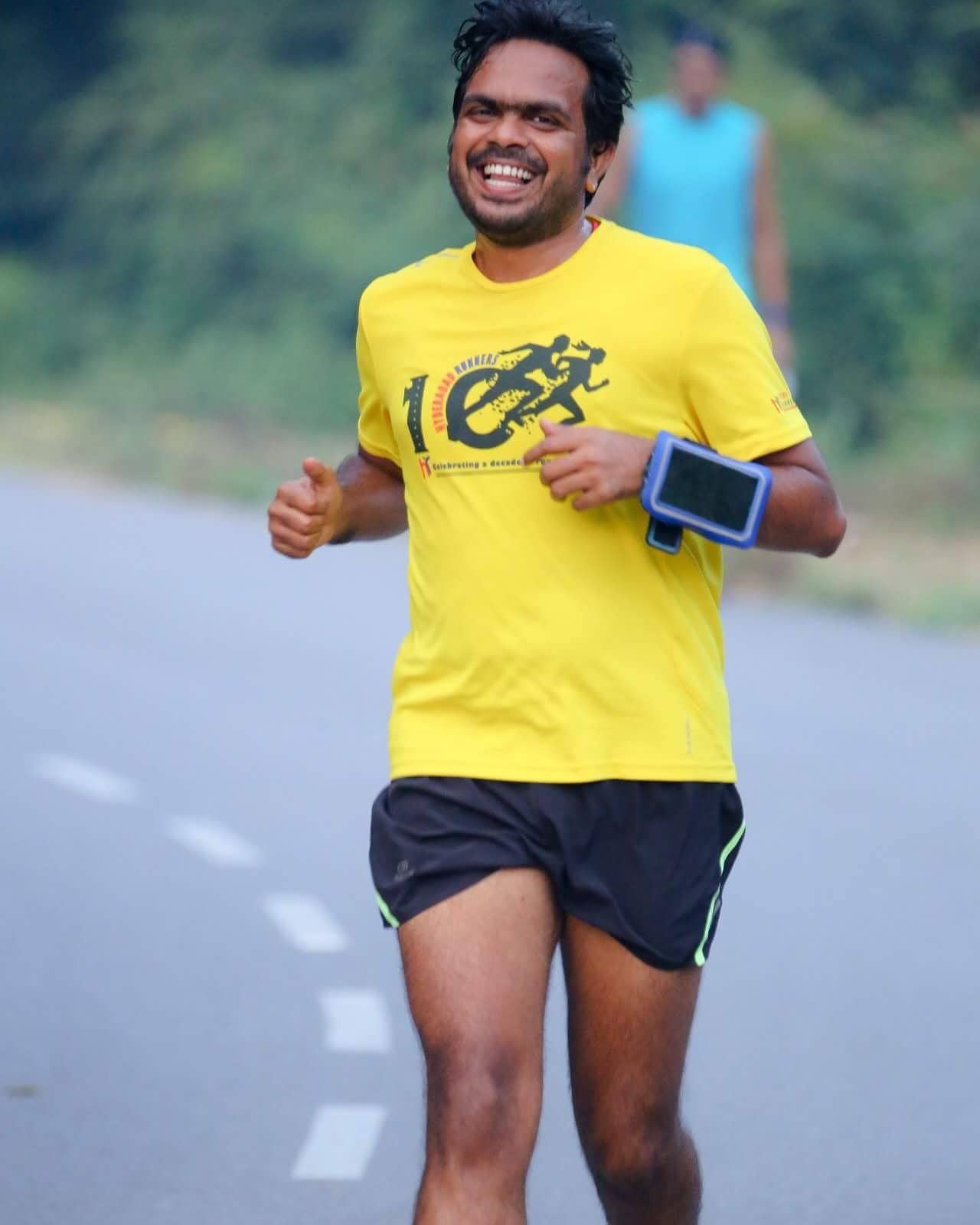 Runners
January 2019
December 2018
May 2018
April 2018