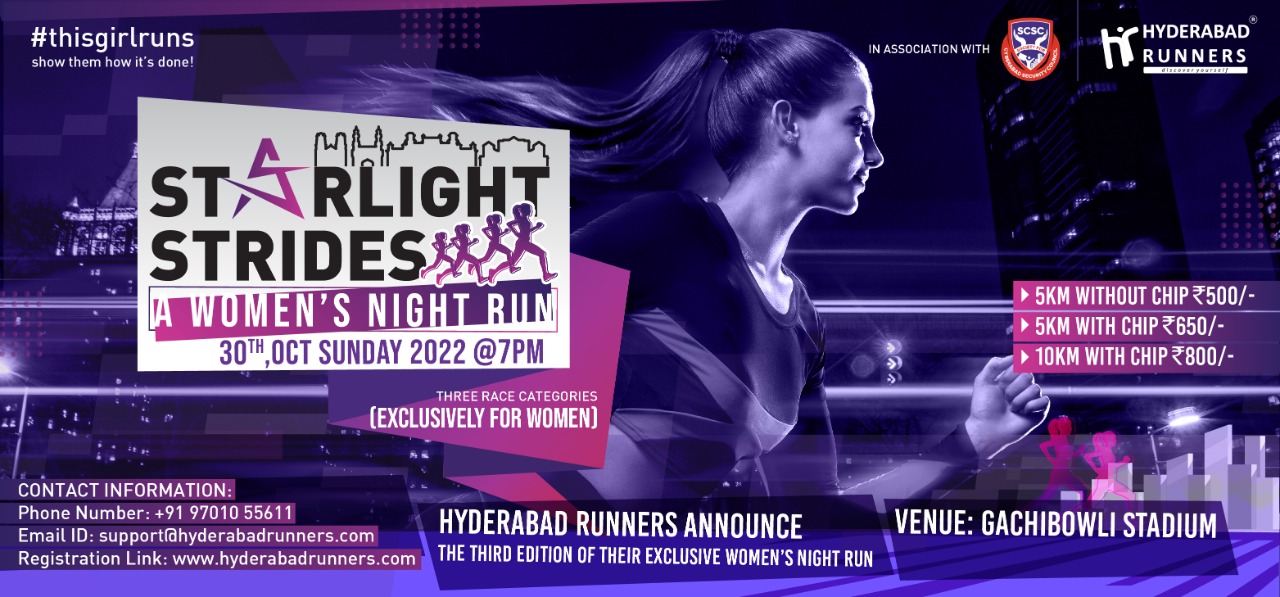 STARLIGHT STRIDES - A WOMENS NIGHT RUN 2022
30 October 2022 | 7:00:pm
Run Details
The Hyderabad Runners Society is made up of a large group of passionate runners who apart from enjoying the sport of running have been actively involved in promoting running as the preferred choice of fitness.We thrive to bring about a positive change in the attitude of the general public of Hyderabad city towards health and wellness by organizing various running events like the NMDC Hyderabad Marathon, the Hyderabad Runners Club Run, the HR Kids Run and community runs through and within the lush green environs of the city and its surroundings.We also want to promote women's safety and empowerment.For that we are organizing an exclusive Women's Night Run (Starlight Strides Women's Run – 3rd edition).Our intention is to encourage women to feel safe in the city .They can walk run on these streets irrespective of the time of the day .
Each registered runner will be eligible for
1. BiB
2. Finisher Medal
3. T-Shirt
4. Post-run refreshments
5. Memories to cherish.
Rules and Regulations  :
All participants are required to report at the venue 1 Hour prior to the start-time of Event.  Have to produce certificate of 2 dose vaccination while collecting the   Bib.  Bib have to be worn at all times during the entire run.
Share
HYDERABAD RUNNERS
EVENTS CALENDAR
Social Wall